Our Home-Style Design Makes All The Difference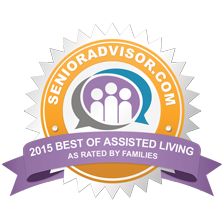 At New Haven Assisted Living and Memory Care, our centrally-located kitchen allows the smell of home cooking to permeate throughout the house, enticing residents out of their rooms to enjoy delicious meals and the companionship of others. Our cozy physical design allows residents to enjoy the kitchen, dining, and living room only a few steps from their private apartment. Just around the corner is another day room, a hair salon, and a sunroom. We eliminated long halls and hidden corridors so our residents won't lose their way. Activities are at their doorstep, and caregivers are close at hand. Depression and insecurity are minimized by our close, open, and home-like atmosphere where friendship and caring are optimized.
Celebrate Veterans Day at New Haven

New Haven Assisted Living & Memory Care invites you to to join us in saluting our Veterans on November 11th, from 10am to noon in the front lawn of our location in Schertz, Texas. View our flyer for more details.
Miniature Therapy Horses Bring Joy at New Haven

Miniature therapy horses Bella, Amber, and Loki paid a special visit to New Haven.


Watch the video and read the full story.
Grand Opening
We are proud to announce the grand opening of a new location in Kyle.

For more information, please view or download our flyer
"For me, New Haven is a place of joy in companionship and loving kind people to meet our needs!"
New Haven Resident, Ruth B

Memory Care at New Haven
We believe that our residents, who experience progressive illness with cognitive impairment and challenges, still have the right to experience life with opportunities for growth and fulfillment. We understand that those with memory challenges experience a very different environment. We support our residents, in their reality, and the people who love them.
Our Philosophy of Care
Choice
Respect
Patience
Flexibility
Individuality
Life Enrichment
Kindness
Quality of Life
May We Answer Your Questions?
Choosing new living arrangements for yourself, or for someone you love, can be difficult. We look forward to answering your questions and showing you why New Haven Assisted Living and Memory Care is the perfect choice.
To schedule a personal tour of our campus or to answer your questions, please call: 512.667.0077
Why Is New Haven The Right Choice?
We know that it can be difficult to accomplish routine activities; therefore, we offer caring assistance twenty-four hours a day, seven days a week, in a beautiful home environment.
We know that loneliness and boredom can plague seniors; therefore, we promote a stimulating and social atmosphere.
We know that support of our residents' independence and individuality is vital to their desire to thrive; therefore, we exist to accommodate their special needs.
Staff Training and Education
We offer a thorough, multi-phased training program that sets our staff apart as extraordinary caregivers.
Staff members are specifically trained in managing aspects of senior care as well as understanding and managing the challenges of Alzheimer's and dementia care.
All staff receive background checks and drug screening and are given continuous education and training.
We are the specialists in "Forget Me Not Caring"
Forget not to exercise our passion and skills.
Are You Caring For Someone With Memory Loss?
Caregiver Support Group
Meetings are every 2nd Tuesday of each month 10:00 am – 11:00 am at our Schertz facility. Contact our Group Facilitator Regina Yockey (512) 667-0077 for more information.
More About Family Caregiver Support Group Meetings:
Provide a place for caregivers to learn and gain support from others also caring for person with memory loss
We'll present information about memory loss care management, available services, and current research and treatment options
Led by volunteers receiving support and training from the Alzheimer's Association
Free and open to unpaid care partners, family members and friends of individuals with memory loss.
Available in your community