New Haven Assisted Living and Memory Care of Kyle Awarded "2016 Best of Assisted Living", by SeniorAdvisor.com
New Haven Assisted Living of Kyle, LLC is proud to announce their selection as a 2016 Best of Assisted Living Award Winner on SeniorAdvisor.com. Winners of the SeniorAdvisor.com Best of 2016 Awards represent the top tier of in-home care, assisted living, and other senior living providers, based on the online reviews written by seniors and their families. Read full press release.
Our Home-Style Design Makes All the Difference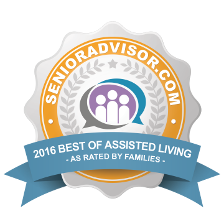 At New Haven Assisted Living and Memory Care, our centrally-located kitchen allows the smell of home cooking to permeate throughout the house, enticing residents out of their rooms to enjoy delicious meals and the companionship of others. Our cozy physical design allows residents to enjoy the kitchen, dining, and living room only a few steps from their private apartment. Just around the corner is another day room, a hair salon, and a sunroom. We eliminated long halls and hidden corridors so our residents won't lose their way. Activities are at their doorstep, and caregivers are close at hand. Depression and insecurity are minimized by our close, open, and home-like atmosphere where friendship and caring are optimized.
"We are the specialists in Forget Me Not Caring"
Forget not to respect the individual wishes and requests of our residents.
Our Philosophy of Care
Choosing new living arrangements for yourself, or for someone you love, can be difficult. We look forward to answering your questions and showing you why New Haven Assisted Living and Memory Care is the perfect choice.
Choice
Respect
Patience
Flexibility
Individuality
Life Enrichment
Kindness
Quality of Life
To schedule a personal tour of our campus or to answer your questions,
please call: (512) 667-0077
Announcements
Senior Dance Day
Join us for the 4th Annual Senior Dance Day!
August 17th from 2-4pm at the San Marcos Activity Center
View flyer for more details.
June Mixer
Join us at our Schertz location on June 16th between 5:30 - 7:00 as we kick off summer with a luau party!
Classic Car Show
Join us at the Schertz New Haven Assisted Living & Memory Care on May 30th for the 2016 Classic Car Show.